Using today's waste to prevent global waste forever
We believe it is not only important that our products are of the highest quality, but also that we leave behind a livable planet.
Leadax is the first and only lead substitute in theworld that is certified by KIWA and sets the standard.
At the end of its life, our products can be recycled and reused for new Leadax products. 
Waste as raw material for roofing products
Globally, there is an abundance of PVB waste. Polyvinyl butyral (PVB) is a type of plastic that was used in safety glass, such as car windows, among other things. In Europe alone, this waste mountain is growing by 1.5 billion kilograms. Per year! By comparison, this is the weight of 150 Eiffel Towers. Unbelievable.

This plastic waste was indeterminate and was dumped or burned, which is a mortal sin for such a strong raw material. By developing products made from recycled PVB, we are giving a purpose to this indeterminate waste, the building materials of the future. 
Recycle and reuse to close the loop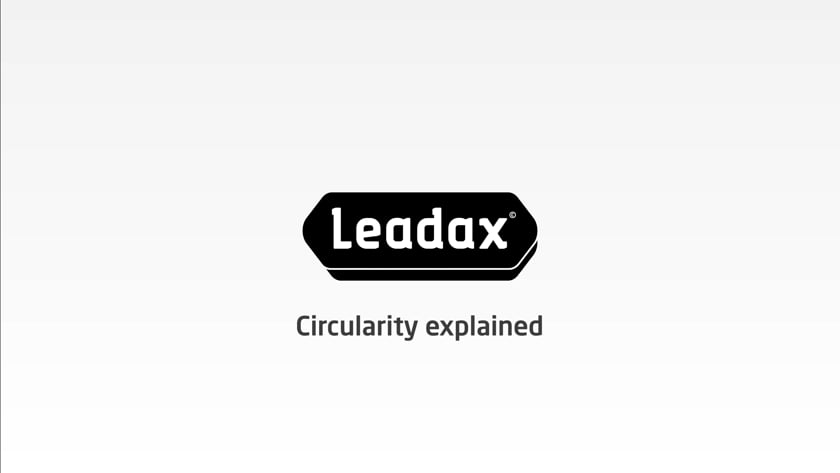 Building materials of the future
The European Green Deal states that Europe must become the first climate-neutral continent by 2050. In concrete terms, this means that greenhouse gases must already be reduced by 55% compared to 1990 by 2030. 

Worldwide, the construction sector was responsible for no less than 38% of energy and process-related CO2 emissions*. This means that the construction sector has a major role to play in achieving this goal. 

The growing world population is also increasing the demand for housing, so in order to realize these ambitious goals, we have to start building with environmentally friendly materials. We are therefore taking action now and supplying the building materials of the future, made from today's waste.

*Hamilton, I. (UCL) & Rapf, O. (2020). Global Status Report for Buildings and Construction
Sustainable Development Goals
De Verenigde Naties hebben 17 duurzaamheidsdoelstellingen geformuleerd, die bijdragen aan een betere en duurzamere toekomst voor iedereen; de Sustainable Development Goals. Deze doelen zijn met elkaar verbonden en pakken mondiale uitdagingen aan, gerelateerd aan armoede, ongelijkheid, klimaatverandering, aantasting van het milieu, vrede en gerechtigheid. Het is van levensbelang alle 17 doelen in 2030 te halen.
1. Wanden en kozijnen
Leadax Original kan worden toegepast als waterkering in (spouw)gevels en onder kozijnen.
Benefits of our waterproofing products
Using today's waste to prevent global waste forever: that is our mission. Therefore we are committed to the United Nations Sustainable Development Goals and with our circular and sustainable lead replacement products we are on a mission to change the world for the better.
Leadax-producten dragen bij tot het beschermen van een gebouw tegen vuur en vocht. Ze zijn bestendig tegen zware weersomstandigheden, brandwerend en kleurvast.
Na de levenscyclus worden de producten gerecycled en de grondstoffen hergebruikt voor het maken van nieuwe producten. Zo hoeven er geen nieuwe primaire grondstoffen gebruikt te worden en wordt de cirkel weer gesloten. 
Het materiaal van onze producten is brandwerend (klasse Broof(t1)). Dit betekent dat het bestand is tegen vonken die worden weggeblazen door een sterke wind, zoals een nabijgelegen vuur of fakkel.
Uit diverse verouderingstesten is gebleken dat de butyl goed hecht aan de PVB om zeker 30 jaar wind- en waterafstotend te blijven onder alle weersomstandigheden. Niet alleen duurzaam materiaal, maar ook duurzaam in gebruik dus.
The Sustainable Development Goals (SDGs) are 17 goals to make the world a better place by 2030. As a producer of sustainable and circular water retaining building materials, we are committed to them.
Registreer nu een Roov-dak
Expansion of the Management Team with Louis Heinen as the new CEO
The Netherlands-based company Leadax, a leader in the circular building material industry, announces the appointment of Louis Heinen as the new CEO of the company. This announcement represents a significant...